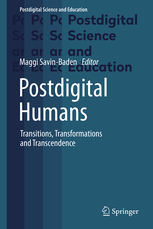 Postdigital Humans: Transitions, Transformations and Transcendence (Savin-Baden, Maggi (Ed.), 2021, Springer) is the first book in the new book series Postdigital Science and Education.
This book explores approaches to developing and using postdigital humans and the impact they are having on a postdigital world. It presents current research and practices at a time when education is changing rapidly with digital, technological advances. In particular, it outlines the major challenges faced by today's employers, developers, teachers, researchers, priests and philosophers. The book examines conceptions of postdigital humans and studies the issue in connection with ethics and employment, as well as from perspectives such as philosophy and religion.
Editor: Maggi Savin-Baden, is Professor of Higher Education, University of Worcester, UK. She has been research learning in innovative spaces for over 20 years gaining grants from  funder that include The Leverhulme Trust, Esmee Fairbairn, JISC  and  the Ministry of Defence. She has authored, coauthored and edited 17 books to  date with 2 more due out in 2020-21. In her spare time she is a baker, runner and triathlete.