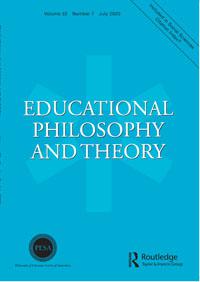 PESA Agora features selected Open Access EPAT editorials.  Each month's articles are listed in PESA Agora Notices.
To read other EPAT articles go to the site to subscribe, and/ or join PESA.
EPAT has been published continuously for 51 years, is an SSCI journal, a top journal in the field, it is the flagship journal of The Philosophy of Education Society of Australasia (PESA) and published by Taylor & Francis.
The Impact Factor for Educational Philosophy and Theory (EPAT) 2019 is 1.415. In the Journal Citation Reports, Category: Education & Educational Research, it is 162 out of 263 journals in Quartile 3. This is an increase on the 2018 impact Factor.
EPAT publishes fourteen issues a year and includes special issues; Print ISSN: 0013-1857 Online ISSN: 1469-5812
EPAT publishes articles concerned with all aspects of educational philosophy, as well as from other areas of pure or applied educational research, e.g. curriculum theory, educational administration, the politics of education, educational history, educational policy, and higher education that are germane to the ongoing conversations and dialogues of educational philosophy.
It encourages a philosophy of engagement, that is more open and receptive to Continental and Asian thought as well as to Indigenous Philosophy and identity politics more broadly, so it accepts submissions from education, the arts, sciences.
EPAT Editorials and other selected articles are Open Access.
EPAT is the hub of a number of other groups and organizations including The Editorial Development Group. It is a major stakeholder in The Video Journal of Education and Pedagogy and also the basis for The Editor's Collective that supports the development of a journal ecosystem comprising several journals.
EPAT Editor-in-Chief is Michael A. Peters, FRSNZ, Distinguished Professor of Education at Beijing Normal University & Honorary Senior Research Fellow at University of Auckland.
For all general enquiries please contact the Managing Editor, Susanne Brighouse at journal@pesa.org.au