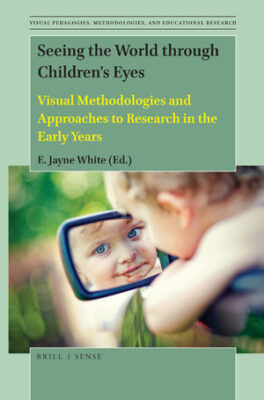 Mark December 3rd in your diary, because you're invited to an online celebration of the launch of  Seeing the World through Children's Eyes – Visual Methodologies and Approaches to Research in the Early Years edited by E. Jayne White,  the first volume in the exciting new book series, Visual Pedagogies, Methodologies, and Educational Research (Brill).
Seeing the World through Children's Eyes brings an overarching emphasis on 'seeing' to early years research. It provides an opportunity to see and hear from leading researchers in the field concerning how they work with visual methodologies and young children. It explores the problems, pitfalls and promises that these offer for reflexive, critical inquiry that privileges the 'work of the eye' whilst implicating the researcher 'I' for what is revealed. Readers are invited to see for themselves what might be revealed through their discoveries, and to contemplate how these ideas might influence their own seeings.
During the online launch you will be able to learn about how this book series came about; about the contents from some of the sixteen contributing authors; and be able to ask questions. You may even win a free copy!   Find out more, and register, here.
Thu, 3 December 2020,   20:00 – 21:00 AEDT