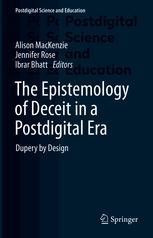 MacKenzie, Alison, Rose, Jennifer, Bhatt, Ibrar (Eds.) 2021,  Springer,
This edited book collection in the Postdigital Science and Education Book series (Springer) offers strong theoretical and philosophical insight into how digital platforms and their constituent algorithms interact with belief systems to achieve deception, and how related vices such as lies, bullshit, misinformation, disinformation, and ignorance contribute to deception. This inter-disciplinary collection explores how we can better understand and respond to these problematic practices.
The Epistemology of Deceit in a Postdigital Era: Dupery by Design will be of interest to anyone concerned with deception in a 'postdigital' era including fake news, and propaganda online.  The election of populist governments across the world has raised concerns that fake news in online platforms is undermining the legitimacy of the press, the democratic process, and the authority of sources such as science, the social sciences and qualified experts. The global reach of Google, YouTube, Twitter, Facebook, and other platforms has shown that they can be used to create and spread fake and misleading news quickly and without control. These platforms operate and thrive in an increasingly balkanised media eco-system where networks of users will predominantly access and consume information that conforms to their existing worldviews. Conflicting positions, even if relevant and authoritative, are suppressed, or overlooked in everyday digital information consumption. Digital platforms have contributed to the prolific spread of false information, enabled ignorance in online news consumers, and fostered confusion over determining fact from fiction.
The collection explores:
Deception, what it is, and how its proliferation is achieved in online platforms.
Truth and the appearance of truth, and the role digital technologies play in pretending to represent truth.
How we can counter these vices to protect ourselves and our institutions from their potentially baneful effects.