At its 1st year anniversary, after going live on 29th July 2020, as founding editor and project manager for PESA Agora, I wish to provide a narrative account of how our project eventuated. I begin by  providing a very brief genealogy of the academic journal and the trajectory that has seen the establishment of PESA Agora – a meeting place of ideas – a post-digital platform, which is an Open Access, free to all journal comprising many parts that will be outlined below.
The academic journal that remains the oldest continuously published one began in 1665 in the UK with The Philosophical Transactions of the Royal Society  published and edited by Henry Oldenburg, the Royal Society's first secretary and is the world's first and longest running journal, with some brief details form the Royal Society website below.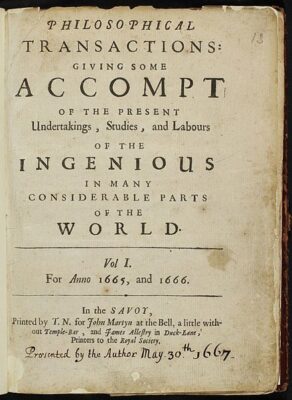 Oldenburg spun his wide-ranging network of European natural-philosophical contacts, the activity of the Royal Society, and his skills as a linguist and scientific editor into a new form of print intended to promote the enterprise of early modern science and perhaps make some money on the side. The journal appeared monthly, selling for one shilling.
The Royal Society website provides us with some interesting historical detail, but it is important note just how this path-breaking journal began:
An introduction to this tract
Abstract:
Whereas there is nothing more necessary for promoting the improvement of Philosophical Matters, than the communicating to such, as apply their studies and endeavours that way, such things as are discovered or put in practise by others; it is therefore thought fit to employ the press as the most proper way to gratifie those, whose engagement in such studies, and delight in the advancement of learning and profitable discoveries doth entitle them to the knowledge of what this Kingdom, or other parts of the World, do, from time to time, afford, as well of the progress of the studies, labours, and attempts of the curious and learned in things of this kind, as of their compleat discoveries and performances.
Royal Society, 06 March 1665
The Charter of the Royal Society was dedicated to 'improving natural knowledge'. The site notes that in the 19th century changes:
By the 1830s Philosophical Transactions was facing increased competition for the best scientific papers from commercial journals with a more rapid publication schedule, as well as from the proceedings and transactions of more specialised scientific societies. The Royal Society responded by introducing more rigorous and systematic expert peer review, and by launching an abstract journal, Proceedings of the Royal Society, procedures which were reinforced and extended during the long tenure of George Gabriel Stokes as editor. Later in the century Philosophical Transactions split into 'A' and 'B' series (physical and biological sciences respectively), and from 1893 the Proceedings began to include full research papers in its own right.
By the 20th century, the academic journal as the cornerstone of the emerging global system of scientific communication and scholarship,  was closely tied to peer review and the history of the printing industry, where the 1960s and 70s saw major commercial publishers acquiring some journals from learned societies. This has continued apace and now the field is dominated by a five major companies that have grown enormously through acquisitions and mergers and now dominate the field (e.g. Elsevier, Springer Nature, Taylor & Francis, Wiley-Blackwell, Sage). The traditional business model has been where academics supply articles and do peer reviews free of charge, but the journal is behind a paywall where the publisher charges fees to users/ readers and bundles journals that it sells as a package to libraries world-wide. If a learned society owns the journal they will provide an Editor and editorial management team and will receive negotiated royalties.
Dramatic shifts are facing academic publishing in the 21st century as changes in internet based technologies shift it from being solely print based to being in electronic formats and now adds in digital media, video, and links with new social media technologies. All the while now being hugely influenced by the development and use of algorithms to establish many forms of bibliometrics and analytics, including impact factor and citation analysis (e.g. Scopus, SSCI, h-index, Web of Science, Google Scholar) and various databases (e.g. EBSCOhost, PubMed Central, Science Direct, Eric etc.).
The Philosophy of Education Society of Australasia (PESA) owns the journal  EPAT, which was established in 1969.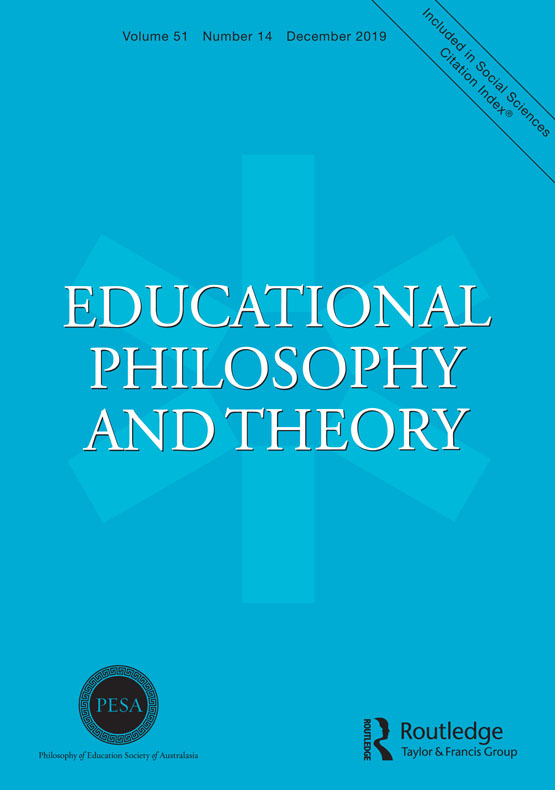 It was a typical journal of a learned society, starting very small with a couple of issues per year until 1999. EPAT has articles detailing some of its history.
Once Michael A. Peters became Editor-in-Chief, he systematically expanded the number of issues during the 2000's. It  was 3 issues a year until 2001, 4 until 2004, then 6 to 2006, 7 in 2007, 8 in 2010, 10 in 2011, 12 in 2013, and 14 in 2014 and thereafter. In 2019 we had more downloads than the first 30 years with 570,000. Last year it experienced a 100 percent increase in submissions and downloads from all over the world. It has definitely moved on from a small start over 50 years ago to becoming an international leader in its field  with 2020 Impact factor 1.645.  EPAT is still largely behind a paywall, but its editorials are now free access as are some articles. PESA members have full access and the membership fees have remained low for many years. Royalties generated over many years have enabled PESA to take more control over its activities: to acquire and restart the journal ACCESS: Contemporary Issues in Education, to digitise its archive of 40 years publishing it free on the new platform PESA Agora.
Starting PESA Agora – from 2019 to July 2021

On beautiful Spring morning in Beijing in May 2019, Michael and I walked across for coffee to a favourite café, Sculpting in Time (named after a Tarkovsky film – see Marla Morris' Column), opposite Beijing Normal University, talking about some ideas for a new concept of the academic journal. We envisioned one that was in PESA's ownership and control rather than relying on any of the big publishers and which did things a bit differently, being accessible to all readers, not just academics. The initial idea we had for PESA Agora was a way  for PESA to build an Open Access public knowledge culture that promoted EPAT and PESA  but with a much broader focus and meeting place for ideas. We saw this as setting up a new kind of journal that offered an Open Access arm to EPAT that would be in a more popular, journalistic style that would appeal to a much wider audience than the traditional Philosophy of Education arena and its academic journals.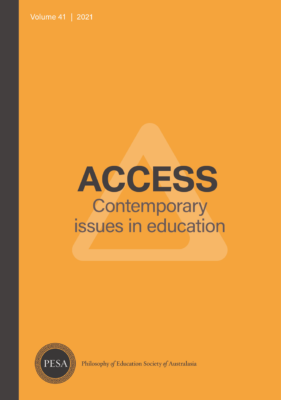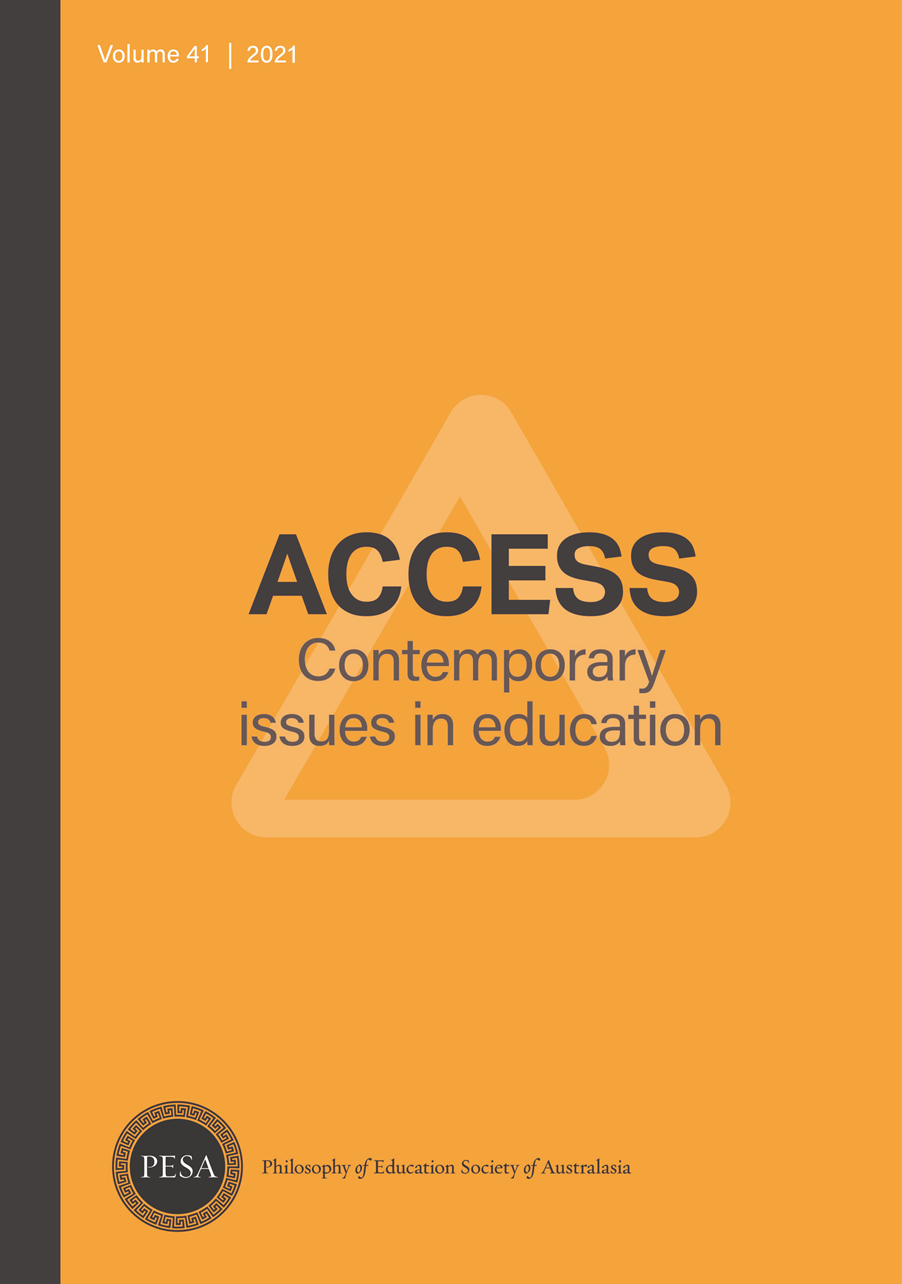 We also wanted a location which could incorporate the ACCESS Archive, which was owned by PESA and being digitised by Andrew Madjar. We realised that the treasure we had in an archive of 39 issues of a journal should not be left to languish just in print form in the stacks of only three universities (Auckland, AUT & RMIT), but become visible and available to all. At this stage we hadn't thought of re-launching Access. That came later as we widened the scope of PESA Agora and decided that Access  would be re-developed with a different focus to EPAT, a focus on the broader education field, as an Open Access journal—as  Access: Contemporary Issues in Education.
Michael and I  tossed around names and kept returning to 'agora', but it was rather too generic when we checked domain names. We eventually settled on PESA Agora once Jaryd Fletcher & James Garrett, our PESA web developers from Pre-Flight Ltd whom we met in Melbourne, checked it out for us. We took the idea to a PESA Executive meeting in Auckland July 2019 which agreed to establish and fund it. After many emails and discussions with James and Jaryd,  we further refined the concept, design, logo, images and website, such that by the next PESA Executive meeting in February 2020 (our last in-person meeting in Melbourne before Covid-19 upended things),  I presented an updated business plan, with a draft budget. Since the majority of PESA funds are income from EPAT, the PESA Agora project is a way that PESA can invest in itself and its future all the while adding to diverse knowledges.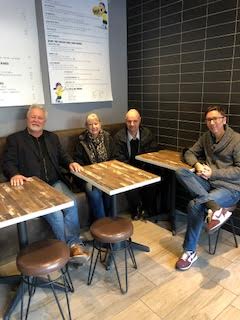 1st meeting with PreFlight web designers, Melbourne, July 2019
L-R: Michael A. Peters, Tina Besley, Jaryd Fletcher, James Garrett
The intention was that PESA Agora establish two new Open Access journals:  PESA Agora as a multimedia online journal and to re-launch Access; that it promotes EPAT through selected editorials and the monthly list of new articles in Notices; and provides publishing and editing opportunities for PESA members and others. It really is a diverse online platform which comprises a multifunctional website that houses three separate but connected publishing spaces – PESA Agora, EPAT Editorials and Access.
With a lot of work by the PESA Agora team especially by Tina & Sean and with Jaryd's technical help in project design we select and copy-edit articles and source freely usable images primarily from Unsplash to accompany all of them. Consequently, in a very short time frame, in just over a year from our initial conversation,  the PESA Agora site was launched in July 2020, and described on the website as:
PESA Agora provides a public space for comments on issues and concerns related to the philosophy of education, the wider fields of education, and culture in our contemporary world. PESA Agora is an Open Access meeting place for people interested in the intersections of education, philosophy, teaching, learning, technology, indigenous philosophies, identity issues, and the environment, in effect it is the future of the academic journal (https://pesaagora.com/about-pesa-agora/).
As many of you will know, the concept for PESA Agora is derived from the ancient Agora of Athens which was an open market-place for the polis or citizens to trade goods and where they gathered to speak in public about the artistic, spiritual and political life of the city-state. The Agora served as an early model for both the Academy and the dialogues, therefore we have set up PESA Agora as a public space for sharing ideas.
PESA Agora features include:
Ideas: brief 500-1000 words or less
Columns: a short essay 3000 word limit, in a journalistic rather than formal academic style
Educational Philosophy and Theory (EPAT) Editorials– a selection from our journal
Notices: News about people, books, events, CFPs, conferences
Podcasts: Collective Intellectualities hosted by Alex Means and Amy Sojot
Videos on our own PESA Agora YouTube Channel
ACCESS: Contemporary Issues inEducation relaunched in 2020 with Volume 40. It is peer reviewed and Open Access. Volume 41, 2021 is underway.
Access Archive: searchable, digital archives of all 39 previous issues of ACCESS: Critical Perspectives on Communication, Cultural and Policy Studies, which was established in 1982 and provides an international forum where current educational concerns and trends – theoretical, empirical, and practical – can be expressed and critical discussion promoted.
The project has been a team effort by PESA members with the inaugural PESA Agora Team being: Editor-in Chief- Michael A. Peters; Editor & Project Manager – Tina Besley; Deputy Editor & Social Media – Sean Sturm; Access Editor- Nina Hood; Access Deputy Editor – Marek Tesar; Access Editorial Administrator – Andrew Madjar; Finance – Rachel Buchanan; Videos – Rene Novak; Webinars & Podcasts- Liz Jackson; Communications- Courtney White;  and Sonja Arndt and  Christoph Teschers.   In 2021 there have been some team changes, Nesta Devine is now Access Editor, Bernadette Farrell does the Newsletter and Alex Means and Amy Sojot host a podcast series,  Collective Intellectualities.
To date not only have several PESA members contributed articles or had an EPAT Editorial featured in PESA Agora, but so have many other international scholars. Of course we hope that more people will send us articles in future.
We use MailChimp to send PESA Agora Newsletters to over 3500 subscribers and along with the 2020 festive season, we announced our first funding drive requesting donations.
Google Analytics reports show  what and where the people are who look at our site as we prepare for building on this great start in future. By February, we had 5566 users. USA with 22% of users is the geographic area leading the way, followed by Netherlands & UK 11% each, then Australia 9%  and NZ 5% … yes it is global!
Considering that it only launched in August 2020, it is exciting to see that ACCESS Vol 40 is getting a lot of attention. I think the importance of people sharing their PESA Agora publications amongst their networks and the power of social media can not be underestimated.
So now that PESA Agora, having launched on 29th July 2020, amid the Covid-19 pandemic and has reached a new milestone, its 1st birthday,  we thank all our authors and everyone who has contributed to this collective effort and we firmly believe that PESA Agora is fulfilling its brief and looks forward to a bright future space as a collective in public knowledge cultures, that in a small way might be considered as the future of the academic journal in a post-digital world (see my 2021 editorial, Post-Digital Scholarly Publishing in Post-Digital Science & Education (PDSE).
Now that we have reached our 1st birthday, we would love a birthday present so we welcome and  invite donations to continue to support this project.
Thank you
Tina